North Star has been a trusted name in the Christmas Tree industry for over 80 years. We are family owned and operated and love nothing more than family traditions! We encourage families to start or continue the tradition of choosing and cutting a real Christmas tree. At the farm we have thousands of trees to choose from in a variety of species including the very popular fraser fir.
Trees range in size up to 20′ tall and are baled for ease of transportation in or on your vehicle.
Other than choose-n-cut trees, we also provide:
Fresh cut Christmas trees
Beautiful wreaths, garland, swags and centerpieces
Holiday gift shop
Christmas movies played while sitting on haybales

Free hot chocolate, plus a free gift for the kids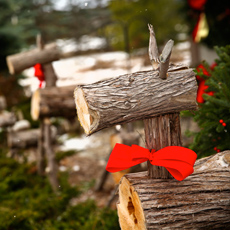 North Star Tree Farm is located at:
7150 Wolverine Road (C58)• Wolverine, MI 49799
231-525-8884
Open the day after Thanksgiving.